Collection J O.D.E.J.
Dans cette collection des années 1960, quelques rééditions de Jules Verne et de titres conventionnels de fantastique et au moins deux romans contemporains de science-fiction.
19 Destination Mars (Mission to Mars, 1955; cycle Maurice Gray), Patrick Moore, 1960, Traduction de N. Chatel, Illustrations de Nardini  http://www.bdfi.net/auteurs/m/moore_patrick.php
27 Les 500 Millions de la Bégum, Jules Verne, 1960
28 Le Temple englouti (100 Fathoms Under,1947; cycle Rick Brant), John Blaine, 1960 http://www.bdfi.net/auteurs/b/blaine_john.php
35 Le Roman de la Momie, Théophile Gautier http://www.bdfi.net/auteurs/g/gautier_theophile.php
40 Robur le conquérant, Jules Verne, 1961, Illustrations de Nardini
53 Helgvor du fleuve bleu, Rosny Aîné, 1962, Illustrations de Gaston de Sainte-Croix  http://www.bdfi.net/auteurs/r/rosny_aine_jh.php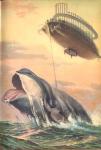 Les illustrations de Nardini sont vraiment sympathiques.
Je ne sais pas qui a trouvé comme titre VO Guide to Mars, c'est un titre qui n'existe pas dans la bibliographie de Moore, bizarre...

Sir Alfred Caldwell-Patrick Moore, (04/03/1923) connu sous le nom de Patrick Moore, est un anglais astronome amateur et un musicien au xylophone qui a travaillé pour la radio et la télévision et rédigé des ouvrages de vulgarisation sur l'astronomie. Il a également écrit des romans de science-fiction, principalement pour la jeunesse.
Il a écrit deux séries destinées à la jeunesse et plusieurs romans moins ciblés,
Series
Maurice Gray
1. Mission to Mars (1955)
2. The Domes of Mars (1956)
3. The Voices of Mars (1957)
4. Peril on Mars (1958)
5. Raiders on Mars (1959)
Scott Saunders
1. Spy in Space (1977)
2. Planet of Fear (1977)
3. The Moon Raiders (1978)
4. Killer Comet (1978)
5. The Terror Star (1979)
6. Secret of the Black Hole (1980)

Novels
Master of the Moon (1952)
The Frozen Planet (1954)
The Island of Fear (1954)
Destination Luna (1955)
Quest of the Spaceways (1955)
Wheel in Space (1956)
World of Mists (1956)
Captives of the Moon (1960)
Wanderer in Space (1961)
Crater of Fear (1962)
Invader from Space (1963)
Caverns of the Moon (1964)
Planet of Fire (1969)
Sources : http://www.fantasticfiction.co.uk/m/patrick-moore/
A priori, il n'y a que Mission to Mars qui a été publié en France sous le titre de Destination Mars. (bien fait, il ose affirmer que Jules Verne n'est pas un écrivain de science-fiction

)